More info
Key benefits - Royal Canin Puppy Giant Dog kibbles:
High digestibility. The mix of highly digestible proteins, prebiotics, beetroot, rice and fish oil in Royal Canin Puppy Giant Dog kibbles contributes to good digestive regularity.

Support the joints. The proteins, minerals and fatty acids (EPA and DHA) in this food contribut to protect and support the bones and joints of large breeds puppies.

High energy density. Royal Canin Puppy Giant Dog has a high energy density to compensate the high metabolic needs of growing puppies from large breeds. It also allows to reduce the volume of the food intake to avoid overloading the digestive system.

Support the immune system. Prebiotics and antioxidants (vitamin E, vitamin C, taurine and lutein) support the natural immune system of growing puppies.
Ingredients:
Dried poultry proteins, rice, wheat glute, maize, animal fat, animal protein hydrolysate, beet pulp, mineral salts, soybean oil, yeast, fish oil, psyllium seeds and husk, levure, huile de poisson, graines et téguments de psyllium, fructo-oligo-saccharides, yeast hydrolysate (source of manno oligo saccharides), shellfish hydrolysate (source of glucosamine), tagete extract (source of lutein), cartilage hydrolysate (source of chondroitin).
Recommended daily amount of Royal Canin Giant Dog Puppy kibbles: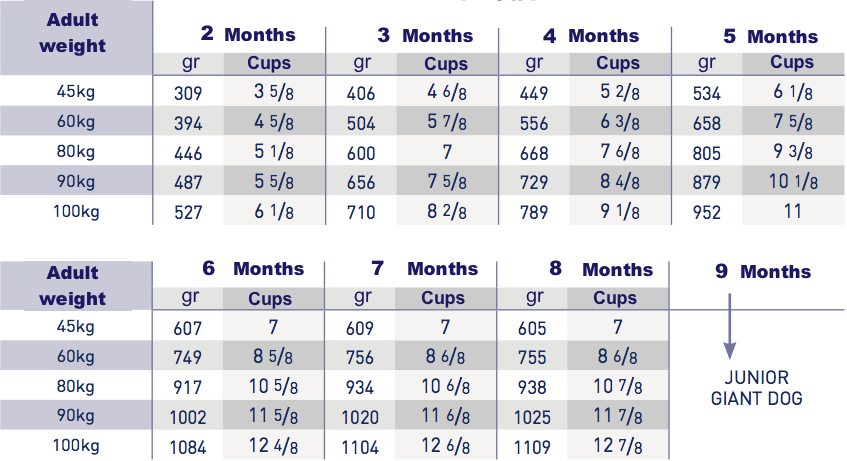 Aged 2 to 6 months: it is recommended to split the daily ration in 3 meals.
Aged 6 to 9 months: it is recommended to split the daily ration in 2 meals.
Aged more than 9 months: move on to Royal Canin Junior Giant Dog kibbles.