How it works - Feliscratch by Feliway pipettes:
When your cat scratched various surfaces in your home, it is sharpening its claws and dropping intergital pheromones to mark its territory. Feliscratch by Feliway is an original solution that allows the cat to mark its territory on more appropriate objects (scratching post, cat tree) and incitates your pet to scratch on the same place the next times.
Feliscratch pipettes contain:
- Cat grass extract (= catnip) to attrat the cats towards the right scratching spot.
- Synthetic Interdigital Feline pheromone (FIS) to stimutale scratching behaviour on the appropriate scratching spot.
- A blue colouring that is useful as a visual marker: your cat will see where to scratch and the blue marks will seem like older scratching marks.
Recommended use - Feliscratch by Feliway pipettes :
Apply the content of a pipette on the chosen surface (scratching post, cat tree) in 2 or 3 vertical lines.
Use one pipette a day for one week then one pipette at the beginning of the thrid week, and one pipette at the beginning of the fourth week.
Apply as follows:
Put the scratching post horizontally on newspaper or on the bathtub or the sink.
Slowly apply the product, drawing 2 to 3 lines along the scratching post.
Let dry for 5 minutes before putting the scratching post back to its place, near the place where your cat usually scratches.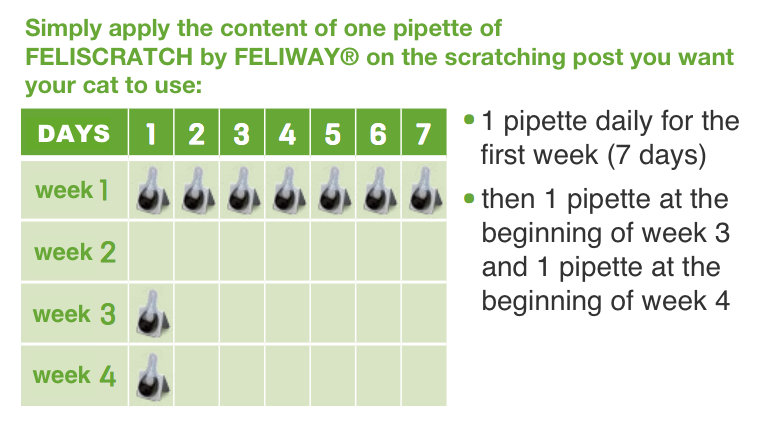 Note: If you don't see any improvement at the end of the 2nd week, clean the inappropriately scratched surfaces with hot water, let it dry then use the Feliway spray. Renew the application of spray every day until the inappropriate behaviour has disappeared.
If necessary, renew the application of Feliscratch by Feliway pipettes for four additional weeks.
Composition - Feliscratch by Feliway pipettes :
Composition for one 5 mL pipette:
Synthetic Interdigital Feline (FIS) anologous 0,5%
Catnip 0,1% (= cat grass)
Excipient qsp 5 mL
Precautions for use - Feliscratch by Feliway :
Feliscratch by Feliway contains blue colouring.
DO NOT APPLY ON THE CAT
Keep away from children
Read the instructions before use