More info
Due to its rugged design, the Orbiloc Safety Light complies with military standards. It is the gold standard among working dogs (e.g. fire rescue dogs, rescue dogs, search and rescue dogs, police dogs, etc.).
As soon as dusk falls or if weather conditions are poor (i.e. fog), it is important that your dog is easy to see, especially by drivers. The Orbiloc LED Safety Light is an essential, professional-quality, easy-to-use accessory that ensures that your dog remains safe.
Orbiloc Safety Light - Features
The Orbiloc Safety Light uses LED bulbs, which are brighter than standard bulbs and do not give off heat. They are also low-energy, increasing the life of the lithium batteries (included).
The light is easy to attach to your dog's leash, collar or harness.
Available in 5 colours, making it easier to tell different dogs apart in the same group.
The Orbiloc Safety Light is visible from a distance of 5 km.
It can be set to flashing (approximately 250 hours of use) or continuous (approximately 100 hours of use).
Water resistant up to 100 m.
Impact resistant up to 100 kg.
Can be used in extreme temperatures ranging from -40ºc to +50ºC.
3-year warranty.
Attaching the Orbiloc Safety Light
The Orbiloc safety light is easy to attach to your dog's collar using a Velcro strap (included).
Step 1:
Slide the Velcro strap through the two slots under the light.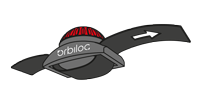 Step 2:
Fasten the Velcro strap once the light has been placed on your dog's collar, harness, leash or jacket.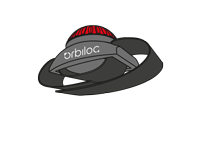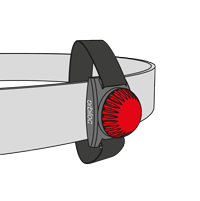 If the Velcro strap is too long, you can cut off the excess using scissors.