Certain events can be extremely stressful to your pet, such as moving or introducing a new pet to your home. Zylkene Chews are a pleasant solution that quickly calms your pet, making it feel at ease during the period in question.
Zylkene Chews - when to use:
Zylkene Chews are given to your dog or cat as a treat in stressful situations, or as a preventive for a coming stressful event.
Zylkene Chews contribute towards the well-being of your dog or cat and ensure a quick and gentle adjustment to all situations of change, making the situation more bearable for your pet. Providing your pet with the support it needs ensures that experiences such as adoption, going to work, first separations, or breeding are much less stressful thanks to Zylkene.
The effectiveness of Zylkene Chews has been proven through numerous clinical trials on dogs and cats. Pets exhibited no side-effects or dependency issues, and the treats were shown to be fast-acting and noticeable from the 7th day of being administered.
Zylkene Chews - Composition:
Zylkene Chews contain alpha-casozepine, a natural protein in milk. Zylkene Chews are guaranteed to have no side-effects or addictive properties. Because it comes as a palatable treat, this dietary supplement is easy to administer: your dog or cat will eagerly eat this treat!
Zylkene Chews - instructions for use:
Give your pet one or two Zylkene Chews per day, based on its weight. As a preventive for a coming stressful situation, it is best to start administering the treats two days prior and to continue to administer the treat for the duration of the stressful period.
Zylkene Chews come in a packet that is sealed for freshness, in 3 different sizes, perfect for cats and dogs of all sizes.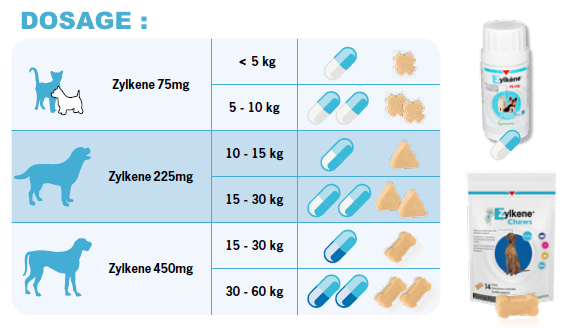 Zylkene Chews can be used over the long term - ideally as a one to two-month treatment, to be continued as required.
It is generally recommended that this treatment be accompanied by behavioural therapy if your pet is exhibiting behaviour issues. Do not hesitate to speak with your veterinarian if you need to adjust the dosage based on your pet's response.